There's something weird happening in the motorcycle world. People are beginning to really believe the bullshit when it comes to the marketing side of things. This is never truer than in the daft "adventure bike" class. What was once called "touring" is now called "adventure riding". Big traillies have been renamed "duel sport" which in turn became "adventure bikes." Great travel bikes such as the BMW GS/Africa Twin/Super Tenere/etc/etc are now getting called dirt bikes and there's more and more people buying these bike, giving them a CR250's pasting then getting upset when their 250kg bike breaks. "But it's a dirt bike, it was designed to go over that huge jump!"
Aye mate, sure it was.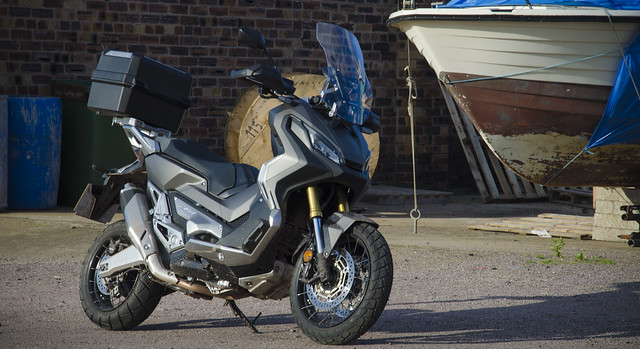 This brings me to Honda's new maxi scooter. I was given a shot of the bike for a couple of days while my bike was in for a service. I'll be honest, when the scooter was first released I laughed. Some marketing genius in Honda had named it the X-ADV, clearly cashing in on the current Adventure fashion. I mean, no one would be convinced that it was an off road bike just because it had ADV written on it, would they?
Putting my prejudices to one side I took the key. Which isn't actually a key. The X ADV is keyless, so you only have to have the fob thing in your pocket. As long as you have it within the proximity of the bike you can open the fuel cap and lift the seat to access the big storage area beneath with a push of a button.
The X ADV has the same parallel twin engine and DCT gearbox as the NC750X. I was surprised how good it sounded when I fired it up. There was the normal clunk when I put it into "drive" and off I went.
Now, reviewing bikes isn't really my strong point, I'm easily pleased. I mean, a shite bike is still better than no bike surely? My initial thoughts were "This is good!" But it really was! The X ADV has a good turn of speed about it and the DCT box is smooth as. The handling is spot on and the brakes strong as they need to be. It was a bit weird chucking the big scooter about with nothing for my legs to hold on to. The DCT box has three "sports" modes, one holding a gear longer than the last. I liked the regular drive mode and the first sports mode. You can also change gear playstation style with a trigger/thumb switch. I used this a couple of times but preferred the automatic modes to be honest. For me, the bike doing all the clutch work took the satisfaction away from manual shifting.
All these modes are displayed with all the other relevant info you'd want on a fancy digital screen.
I gave Bob a lift on the back, there's plenty room for a pillion and the bike handles an extra person fine. The young team even complimented the X ADV's looks, although I doubt any Fireblades will be getting traded in any time soon.
So all i
n all, it's a well specced, practical, good fun, big scoot that's priced with the competition. Honda are saying:
"The X-ADV's agility makes light work of the everyday ride through town traffic; come the weekend, you can set your sights much further afield."
But the internet is already filling up with bizarre videos of folk standing up while riding the maxi scooter along a smooth dirt road and "X ADV off road!!!!" reviews. It's a maxi scooter, not a dirt bike. Never mind off road, if you take the X ADV along a rough dirt road there's a high chance something will break, especially if you drop it. If you want a dirt bike get a KTM 250 ECX. Think of the X ADV as a commuter that'll take you down that bumpy road to the beach at the weekend.
Mike.